Below are the list of best 6 fixed departure treks in Nepal:
Annapurna Circuit Trek
Everest Base Camp Trek
Annapurna Base Camp Trek
Upper Mustang Trek
Mera Peak Climbing
Island Peak Climbing
We have very incredibly wonderful Nepal fixed departure treks 2020/2021. This program allows all the individual around the world who do not have their own group but still want to trek in a group. We specially have  6 treks with fixed departure dates for 2020 and 2021. All the individuals are welcome to join our  world's famous fixed departure
treks in Nepal. At the beginning we are listing Annapurna Circuit Trekking. Annapurna Circuit trek is one of the best Nepal fixed departure treks 2020/2021. Taking Annapurna circuit fixed departure trek with us gives you a great opportunity of meeting people from the different countries. In the mean time you can learn so many things from each other. Tibetan culture and their way of life is another interesting part you will learn while trekking in one of top trekking destinations in the world. It is good to trek over here since you won't be missing good foods and nice
accommodations to sleep. On this incredible trekking adventure, spend about 2 weeks in the mountains with challenging days traversing rhododendron forests, isolated hamlets, and mountain villages. For six to seven hours trekking a day. You can also think about taking cultural tour of Kathmandu or Pokhara valley after or before your trek with Nepal cultural guide.
One of most talked and excellent attractions of Annapurna circuit trek is thorong la pass. Thorong La or Thorung La
is a mountain pass with an elevation of 5,416 metres (17,769 ft) above sea level in the Damodar Himal, north of the Annapurna Himal, in central Nepal. The pass is located on a trail which connects the village of Manang in the Manang District to the east, with the temple of Muktinath and the nearby village of Ranipauwa, in the Mustang District to the west. Thorong La is the highest point on the Annapurna Circuit, a 300 km (190 mi) route around the Annapurna mountain range. In addition to trekkers, the pass is regularly used by local traders.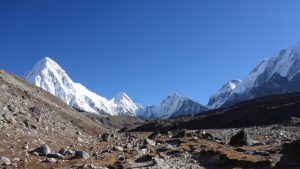 Everest Base Camp trek, which is one of word's famous destinations for adventurous travelers, can be done in 14 days. That is why it is also known as 14 days Everest Base Camp Trek. To begin this trek, one must buy Kathmandu to Lukla and Lukla to Kathmandu domestic air ticket which cost around USD 180 one way. So, USD 360 for the both way. This is one of the main reasons that the trekking package to Everest Base camp is expensive than other treks in Nepal. Once you are in Lukla (one of very challenging airports in the world but it is safe to travel) then you need 2 weeks for trek from lukla to