Below are the list of best 6 fixed departure treks in Nepal:
Annapurna Circuit Trek
Everest Base Camp Trek
Annapurna Base Camp Trek
Upper Mustang Trek
Mera Peak Climbing
Island Peak Climbing
We have very incredibly wonderful Nepal fixed departure treks 2020/2021. This program allows all the individual around the world who do not have their own group but still want to trek in a group. We specially have  6 treks with fixed departure dates for 2020 and 2021. All the individuals are welcome to join our  world's famous fixed departure
treks in Nepal. At the beginning we are listing Annapurna Circuit Trekking. Annapurna Circuit trek is one of the best Nepal fixed departure treks 2020/2021. Taking Annapurna circuit fixed departure trek with us gives you a great opportunity of meeting people from the different countries. In the mean time you can learn so many things from each other. Tibetan culture and their way of life is another interesting part you will learn while trekking in one of top trekking destinations in the world. It is good to trek over here since you won't be missing good foods and nice
accommodations to sleep. On this incredible trekking adventure, spend about 2 weeks in the mountains with challenging days traversing rhododendron forests, isolated hamlets, and mountain villages. For six to seven hours trekking a day. You can also think about taking cultural tour of Kathmandu or Pokhara valley after or before your trek with Nepal cultural guide.
One of most talked and excellent attractions of Annapurna circuit trek is thorong la pass. Thorong La or Thorung La
is a mountain pass with an elevation of 5,416 metres (17,769 ft) above sea level in the Damodar Himal, north of the Annapurna Himal, in central Nepal. The pass is located on a trail which connects the village of Manang in the Manang District to the east, with the temple of Muktinath and the nearby village of Ranipauwa, in the Mustang District to the west. Thorong La is the highest point on the Annapurna Circuit, a 300 km (190 mi) route around the Annapurna mountain range. In addition to trekkers, the pass is regularly used by local traders.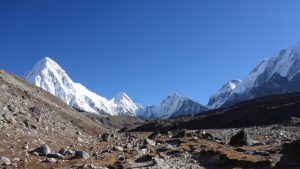 Everest Base Camp trek, which is one of word's famous destinations for adventurous travelers, can be done in 14 days. That is why it is also known as 14 days Everest Base Camp Trek. To begin this trek, one must buy Kathmandu to Lukla and Lukla to Kathmandu domestic air ticket which cost around USD 180 one way. So, USD 360 for the both way. This is one of the main reasons that the trekking package to Everest Base camp is expensive than other treks in Nepal. Once you are in Lukla (one of very challenging airports in the world but it is safe to travel) then you need 2 weeks for trek from lukla to the Base Camp and from Base camp to Lukla.
While trekking to Everest base camp, you will have a lot of opportunities of passing sacred and old Buddhist monasteries, Tibetan Style Mountain settlements of sherpas( Sherpas are aboriginal people of mountainous region of Nepal and very famous tribe for organizing high mountain activities like high passes trekking, peak climbing and extreme expeditions). Magnificent views of different mountain ranges including Everest mountain ranges with the great breathtaking views of Mt. Everest itself.
Annapurna Base Camp Trek, a fabulous trek, suitable for families, adventurous, elderly people and for youngsters. How a tour can be suitable for all kind of people? This is a very common question asked by our visitors. Simple answer of that question is that we customize tip's itinerary according to the fitness level of interested candidates. This means also that any one of you can do very strenuous trek in an easy style.
To do Annapurna Base Camp trekking which is also known as ABC trek normally takes 1 week to 14 days. Why there is a vast different in time for the same trip? It is so because there are different points to start to trek to ABC. Sometimes people prefer to drive as close as possible and then to trek to the Base Camp. Some people want to take as long itinerary as possible. We are always ready to offer whatever interest you would like to take.
How to go to trek to Annapurna Base Camp?
You basically have 2 options to do this special trekking trip in Nepal. One is that you can take overland transportation whether by deluxe tourist coaches or by luxurious private vehicles to Pokhara. Another option is to take domestic flight to Pokhara. Tourist buses' price start from USD 10 and domestic flight starts from USD 90. When you are in Pokhara then you can take a taxis, buses or even couple hours walking to the nearest point to start the trek of your interest.
Mera peak is one of the easy peaks in the Everest region of Nepal.  Trekking route is quite unfrequented and off the beaten. It is non touristic and awesome area to explore exotic land and wonderful destination for your climbing expedition trip in Nepal.  Our Russian group successfully submitted the top recently. Apart of being an easy trekking peak, the most amazing thing about this peak is that it is (6,461m/21,190ft) high and most of submits have been done without using prominent climbing equipment. Another beautiful part of this climbing program of Mera peak in Nepal is that it takes 12 days to 18 days for completing.
Itinerary and price of Mera peak are easy and affordable. Our itineraries are carefully made and resting days are available to make the trip comfortable and easy going. Mountain tourist standard tea houses which offer good foods and hygienic accommodations and the people up there are very hospitable and professional.
Officially, you need to talk about arranging your peak climbing permit, garbage management assurance and Barun national park permit. All these will be taken care of by the agency you will book your Nepal trip with. Along with this Nepal peak climbing trip, you can also take heritage tour in Kathmandu with Nepal cultural guide. along with this blog, we would like to pass you very relevant link about your transportation service in Nepal if needed. You can highly trust for renting any kind of vehicle from Kathmandu vehicle service.